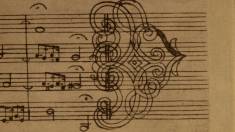 One of the costliest productions inpetto filmproduktion ever made. A film about Johann Sebastian Bach and his importance.
Dokumentation - in German

The essay Heimat BACH is one of our costliest productions. The film, however, shows no evidence of this expenditure. Eight gentlemen debate in groups of either four, three or two in ever changing constellations. Much like members of a string quartet who not always active all at once. They reflect on the question of how it came about that Johann Sebastian Bach has had such an important part in shaping our concept of music and music culture. The film has 14 chapters – we made 158 edits and after 64 minutes and 30 seconds the film comes to an end. With Raphael Alperman, harpsichordist (Berlin), Nikolaus Bacht, audio researcher (Berlin), Kuno Lorenz, philosopher (Saarbrücken), Stephan Mai, violinist (Berlin), Martin Schläpfer, choreographer (Düsseldorf), Peter Schleuning, musicologist (Oldenburg), Jürg Stenzl, music historian (Salzburg) and Wen-Sinn Yang, cellist (München).