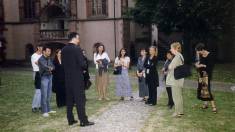 Andreas Scholl - Countertenor
42:00 min
Portrait of the Countertenor Andreas Scholl
Among the paeans of praise from the musical world and the waves of enthusiasm breaking over his head, Andreas Scholl remains modest. He explains the secret of his success simply as patience, and that he has prepared a secure foundation for his work. This foundation, laid at the Schola Cantorum Basiliensis, in Basel provides the basis for his interpretations of predominantly 17th and 18th century music, which almost literally hover as they emerge. Andreas Scholl is absolutely thorough in his work - but despite his being rooted in historical performance practice, an authentic gut-stringed violin is far less important to him than spiritual engagement with music, and the communicating that to the public. With this in mind, he is a fine interpreter of songs by Dowland, Handel arias, and the Bach Passions, and is a favoured soloist for conductors such as Herreweghe, Hogwood and Rousset. His diary is very full - in 2001 he had sixty concerts, with private pupils and recording sessions in addition.
But despite this, he still has time for his hobby: his very own sound studio at home in Basel. In it, Andreas Scholl records his own pop songs, which come out soon on CD. His fans might well be as excited with this as they were with his first opera engagement in 2002. At Le Chatelet in Paris, Scholl took the title role of Bertarido in Handel's Rodelinda. Then he went on tour to Schwetzingen, the Royal Danish Opera, the Vienna Musikverein, the Concertgebouw, Glyndebourne Opera, and Carnegie Hall.
This film accompanies Andreas Scholl on part of his journey, and shows at first hand selected concerts demonstrating the breadth of his singing talent, with opera extracts, baroque love-songs, and pop. Glimpses of the youthful hobbyist Scholl in his Basel recording studio, and of Scholl the teacher fill out the picture. The film follows Andreas Scholl in four locations, each with a different musical emphasis. At the Dresden Music Festival, at the Schwetzingen Festival Theatre, and the Eltville Castle Festival, and finally in Basel, his home, and the place he was educated. In Schwetzingen Andreas Scholl sings two intimate English songs with lute by Dowland and Johnson. In a singing lesson with pupil Alex Potter filmed at the elite training school Schola Cantorum Basiliensis, Andreas Scholl sheds light on part of the secret of how to put these songs over to get the best audience reaction.
In Basel in his flat, it looks like a student digs, occupied for two years. Here Andreas Scholl gives us an insight into his second passion next to early music: composing and arranging pop music. In his own extensively kitted-out studio, long lonely nights are spent turning out song after song, which so far have not seen the light of day.
At the Dresden Music Festival he sings the Klag-Lied by Dietrich Buxtehude, a lament over the death of Buxtehude's father. For Scholl it's a virtuoso work in which his voice effortlessly reaches the supreme heights, and achieves an extraordinary intensity and expressive power.
One of the highpoints of the film is Scholl's appearance at the Eltville Castle Festival, where he performs Handel's Cantata 'Mi palpita il cor' in the local parish church of his childhood in Kiedrich. A youthful Handel composed this work before his great baroque operas, and re-used the melodies often in his later works. The cantata is a kind of opera-in-miniature which is shown to best dramatic advantage in the stunning Gothic setting of Kiedrich parish church. Also in Kiedrich Andreas Scholl's father talks with great charm and wit about his son's development from Kiedrich Boys Choir to his acceptance at the Schola Cantorum Basiliensis. This film shows the public Andreas Scholl on stage, classical and impeccable, and it shows him up close, animated, and personal.