Wie klingt ein Kirschbaum? Das Summen der Wespen, die sich Stücke aus den reifen Früchten herausbeißen. Der Wind, der in die Äste greift, der sogar die zwitschernden Vögel übertönt. Entfernt aus dem Tal das Dröhnen eines Zuges und manchmal das dunkle Pfeifen der Fichten des angrenzenden Waldes.

Was wollen die Séries Sonores? Deutschlandfunk 2006
What does a cherry tree sound like? Wasps buzz as they bite pieces from the ripe fruit. The branches, gripped by the wind, drown out the twittering birds. The humming of a train passing through a distant valley and the occasional darkish sound of fir trees whistling in the neighboring forest.
CD bestellen 12.80 €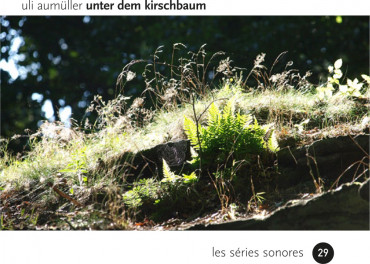 Bitte haben Sie kurz Geduld - die Audiodatei wird geladen!