Grasende Kühe mit Glocken, brummende Käfer, Fliegen, Grillen, ein leises Bachplätschern, ganz weit im Hintergrund ein spielendes Kind, gelegentlich das Pfeifen eines Segelflugzeuges, das entfernte Dröhnen eines Düsenjets – so klingt die Stille der Tiroler Alpen in 2000 Meter Höhe.

Was wollen die Séries Sonores? Deutschlandfunk 2006
Bells of cows grazing, buzzing beetles, flies, crickets, a quietly babbling creek, a playing child in the background, the occasional whistling of a glider, the roar of a fighter jet in the distance - the sound of silence in the Tyrolean Alps at a height of 2000 meters.
CD bestellen 12.80 €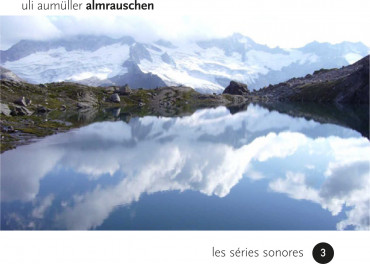 Bitte haben Sie kurz Geduld - die Audiodatei wird geladen!