Fünfzehn rote Klangkörper erzählen in Klang und Text über den Aerody- namischen Park in Berlin-Adlershof. Der Name des Parks weist auf die historische wie architektonische Bedeutung der ehemaligen »Deutschen Versuchsanstalt für Luftfahrt« hin. Begonnen hat alles 1909 mit den ersten Motorflügen Deutschlands auf dem Flugplatz Johannisthal. www.air-borne.info

Was wollen die Séries Sonores? Deutschlandfunk 2006
15 Red loudspeakers in the Aerodynamic Park in Berlin-Adlershof broad- cast the history of the location that served as the center of German avia- tion at the beginning of the 20th century. The installation was conceived by the artist Stefan Krüskemper – the composition of the surrounding sound was carried out by the Viennese composer Karlheinz Essl, based on authentic audio material from the German Radio Archive. This CD presents an 80 minute walk through this environment and the sound from the loudspeakers interfere with the natural surrounding soundscape of the location.
CD bestellen 12.80 €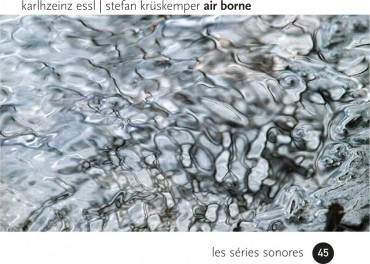 Bitte haben Sie kurz Geduld - die Audiodatei wird geladen!