Auf dem Weg zum Pan African Orchestra sprach mich Joseph an, ein Xylophon-Spieler aus dem Norden Ghanas, ich solle mir seine Musik anhören, in der er erzählt, wie man die Herzen der afrikanischen Mädchen erobert. Diese Aufnahme ist dem Mitschnitt einer Probe des Panafrikanischen Orchesters (unter dem Schatten der Götterbäume) vorangestellt, einem Orchester besetzt mit ausschließlich afrikanischen Instrumenten, deren Repertoire ihr Leiter Nana Dansu Abiam auf seinem Atari komponierte.

Was wollen die Séries Sonores? Deutschlandfunk 2006
On the way to the Pan African Orchestra Joseph, a xylophone-player from northern Ghana, asked me to listen to his songs, in which he explains how to easily conquer the hearts of African girls.
The CD starts with this recording and is followed by a live recording of a rehearsal session of the Pan African Orchestra (in the shadow of the trees of God), an orchestra exclusively playing with African instruments and whose repertoire was composed by its founder and director Nana Dansu Abiam on his Atari-computer.
CD bestellen 12.80 €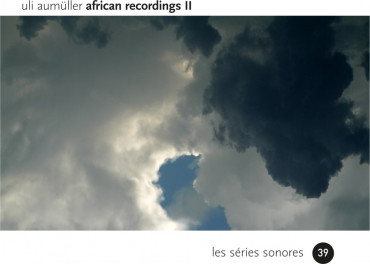 Bitte haben Sie kurz Geduld - die Audiodatei wird geladen!